SEMINARIAN FORMATION FUND
July 16-17, 2022
Just a friendly reminder that the diocesan second collection, the weekend of July 16-17, 2022, is for the Seminarian Formation Fund. Donations can also be made online by scanning the QR code on the poster. Seminarian formation is a costly expense, so any contribution regardless of size will help.
To make a gift to support seminarian education, drop off or mail your contribution to your parish or make a secure gift online. Diocese of Brownsville Vocations
https://www.osvhub.com/…/funds/seminarian-formation-fund
#CatholicFirst #CDOB #prayforvocations
See less
#CatholicFirst #CDOB #prayforvocations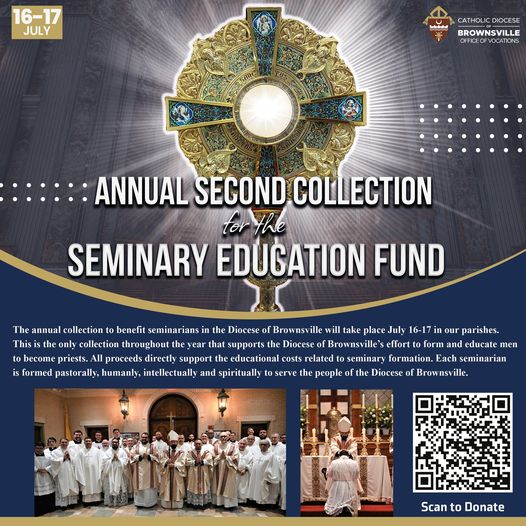 FONDO PARA LA FORMACION DE SEMINARISTAS
Julio 16-17, 2022
Apoye nuestra segunda colecta diocesana para la educación y formación de sus futuros sacerdotes.
But seek first his kingdom and his righteousness, and all these things will be given to you as well.

Matthew 6:33 NIV