The Diocese of Brownsville was established July 10, 1965, by separating the counties of Cameron, Willacy, Hidalgo and Starr from the territory of the Diocese of Corpus Christi, in the State of Texas. These counties are situated in the southernmost tip of Texas on the Gulf of Mexico. Cameroon, Hidalgo and Starr Counties also border on the Rio Grande River, which divides the Diocese of Brownsville from the Diocese of Matamoros in Mexico
The Roman Catholic Diocese of Brownsville (Latin: Dioecesis Brownsvillensis / Diócesis de Brownsville) is a Latin Ritesuffragan diocese in the ecclesiastical province of the Metropolitan Archdiocese of Galveston-Houston, in Texas, USA.
Its cathedral episcopal see is the Immaculate Conception Cathedral, in Brownsville, Texas. It also has a Minor Basilica & National Shrine: Basilica of Our Lady of San Juan del Valle – National Shrine in San Juan, Texas.
History
Founded on 28 Augusts 1874, as Apostolic Vicariate of Brownsville / Brownsvillen(sis) (Latin), of territory split off from the then Diocese of Galveston.
Suppressed on 23 March 1912, its territory being reassigned to establish the Diocese of Corpus Christi (also Texan)
Restored (and promoted) on 10 July 1965 as Diocese of Brownsville / Brovnsvillen(sis) (Latin), regaining its territory from the above Diocese of Corpus Christi.
Statistics
As per 2014, it pastorally served 1,090,000 Catholics (85.0% of 1,283,000 total) on 111,125 km² in 71 parishes, 3 missions, 118 priests (85 diocesan, 33 religious), 92 deacons, 140 lay religious (52 brothers, 88 sisters), 18 seminarians.
The Diocese has the highest percentage of Catholics to total diocese population in the United States: as of 2006 there were 943,611 Catholics among a total population of 1,110,130, or 85.0%.[1]
Bishops of Brownsville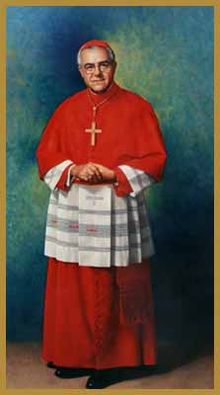 Adolph Marx (1965) (February 18, 1915 – November 1, 1965) served as the first Roman Catholic bishop of the Roman Catholic Diocese of Brownsville, in Brownsville, Texas.
Humberto Sousa Medeiros (1966-1970), appointed Archbishop of Boston (elevated to Cardinal in 1973) GCIH (October 6, 1915 – September 17, 1983) was a Portuguese American clergyman of the Roman Catholic Church. He served as Archbishop of Boston from 1970 until his death in 1983, and was created a cardinal in 1973. An ecclesiastical conservative, Cardinal Medeiros was considered a champion of the immigrant worker, the poor and minorities.
John Joseph Fitzpatrick (1971-1991) (Born October 12, 1918 in Trenton, Ontario, Canada – July 15, 2006) was an Auxiliary Bishop of the Archdiocese of Miami (1968–1971) and the third Bishop of the Diocese of Brownsville (1971–1991). He was also the Titular Bishop of Cenae (1968–1971).
Enrique San Pedro, S.J. (1991-1994)  (born Enrique San Pedro y Fonaguera on March 9, 1926 in Havana, Cuba – July 17, 1994 in Miami, Florida USA) was a Jesuit missionary and the fourth Bishop of the Roman Catholic Diocese of Brownsville.
Raymundo Joseph Peña (1994-2009) (Born 19 February 1934) is an American Roman Catholic bishop. Born in Corpus Christi, Texas, he was the son of Cosme A. Peña and Elisa Ramon Peña. He attended St. John's Seminary, and Assumption Seminary, both in San Antonio, Texas. He was ordained on 25 May 1957 at Corpus Christi Cathedral by the Most Reverend Mariano S. Garriaga, D.D., LL.D. On 16 October 1976, he was named Titular bishop of Trisipa and Auxiliary to the Archbishop of San Antonio. In 1979 he served as Administrator Sede Vacante for the Archdiocese of San Antonio. In 1980, Peña was appointed Bishop of El Paso, serving for 15 years until his installation as Bishop of Brownsville in 1995. He submitted his letter of resignation to the Congregation for Bishops upon reaching 75. His resignation was accepted when Pope Benedict XVI, named Auxiliary Bishop of Detroit, Daniel E. Flores as bishop in his stead.
Daniel E. Flores (2009-present) (Born August 28, 1961) is an American prelate of the Roman Catholic Church. On December 9, 2009 Pope Benedict appointed Bishop Flores as the bishop of Brownsville succeeding Bishop Raymundo Joseph Peña. Bishop Flores was installed as bishop on Candlemas, February 2, 2010.
Coadjutor Bishop
Enrique San Pedro, S.J. (1991)
Auxiliary Bishop 
Mario Alberto Avilés, C.O. (2018-present)
Other priest of this diocese who became bishop 
Joseph Patrick Delaney, appointed Bishop of Fort Worth in 1981
Catholic Education 
Middle and elementary schools
The diocese operates the following schools:
Guadalupe Regional Middle School, 6-8 (Brownsville);
St. Joseph's School, PK-8 (Edinburg);
St. Mary's School, PK-6 (Brownsville); St. Luke's School, PK-8 (Brownsville);
Our Lady of Sorrows School, PK-8 (McAllen);
St. Anthony's School, PK-8 (Harlingen); Incarnate Word School, PK-8 (Brownsville);
St. Martin de Porras School, PK-3 (Weslaco);
Oratory Academy, PK-8 (Pharr);
Our Lady of Guadalupe School, PK-6 (Mission);
Immaculate Conception School, PK-8 (Rio Grande City).
High schools 
Oratory Athenaeum for University Preparation, Pharr
Saint Joseph Academy, Brownsville
Juan Diego Academy, Mission.
Public broadcasting 
The diocese's radio and television stations are operated under the license name of RGV Educational Broadcasting, Inc.[3]